Nashville, TN — Growing up in St. Louis, Matt Felts was most likely the only kid in town with posters of Don Mattingly, star first baseman for the New York Yankees, on his wall. "I was a big fan of his. Even though I was a diehard Cardinals fan, I loved the way he played the game. He was my baseball hero," stated Matt Felts.  Mattingly is considered one of the best first basemen in the history of baseball and is one of a very few to have their number retired by the Yankees. Fast forward 30 years, and Don Mattingly is hitting a homerun of a different kind as a featured guest on Matt Felts' debut solo project, Based On A True Story.
The unlikely pairing is a unique twist for a Gospel album. For his new project, Matt wanted to find songs that truly told "his" story. Baseball played a huge part of Matt's life and testimony, having played in the minor leagues, so when he came across a song entitled "The First Baseball Game" written by Maria Cole, wife of Nat King Cole, he knew he had to include it.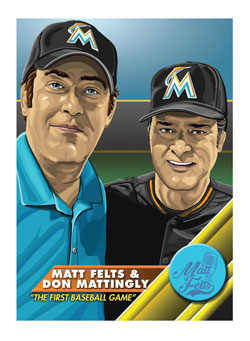 "It's a great song that combined the Gospel and baseball. How could I not record that?" stated Matt. "My mom was related to the Mattingly family, but it wasn't until a few years ago that God crossed my path with Don. I was singing at a church in his hometown. The pastor and I were talking about him. Little did I know that this church was Don's home church. The pastor left and came back a few minutes later and told me that he had just spoken to Don, and he wanted to invite me up to a game. We try to meet up at least once a season," he added. When he began work on the album, Matt called Don to see if he would consider being a guest on this song. Mattingly agreed without hesitation. He is currently the manager of the Miami Marlins and recorded his part of the song at the Miami Marlins ballpark.
As expected, Mattingly's participation has caught the eye of many outside of Gospel music. "The response has already been amazing. We are working with ESPN and other sports outlets on some upcoming appearances," added Matt. The album also caught the eye of a sports illustrator who created a custom artwork of Matt Felts with Don Mattingly that has been turned into a baseball card. A limited number of signed cards have been inserted into Matt's new CD. The Nashville Sounds, minor league team for the Oakland A's, have also partnered with Matt on his project. The Sounds stadium is featured throughout the album, and they have joined Matt on several promotions in support of the album.
Over his legendary career, Don Mattingly collected 2,153 hits. It looks like with the release of "The First Baseball Game" to the fans of Southern Gospel, he may be adding a hit of a different kind to his resume.