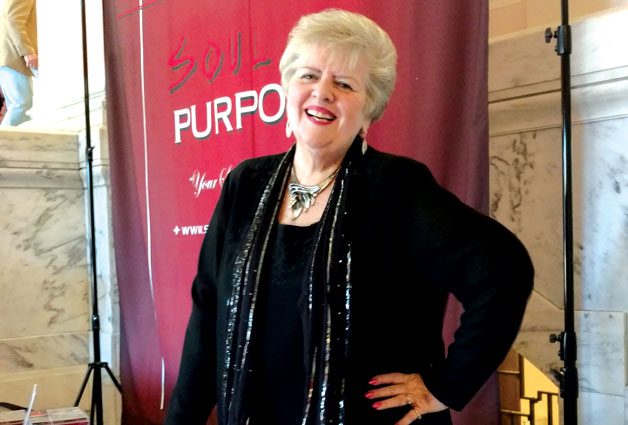 Judy Clapsaddle of Soul Purpose Quartet Passes Away
By
Staff
Sunday, February 05, 2017
Grove City, OH — Singing News has learned that Judy Clapsaddle (Soul Purpose Quartet) passed away Saturday, February 4 following being hospitalized Sunday, January 22 after suddenly falling ill.
Visitation will be Friday from 4-7 p.m., at Spence-Miller Funeral Home, 2697 Columbus Street, Grove City, Ohio and Saturday from 10:00 a.m., until time of funeral at 11:00 a.m., at First Baptist Church of Grove City, 3301 Orders Road, Grove City, Ohio. Rev. Dr. Jerry Neal and Pastor, Ron Goodling, Jr. will be officiating. Interment will follow at Greenlawn Cemetery.
In lieu of flowers, memorial donations may be made to the ministry of Soul Purpose Quartet, P.O. Box 1114, Grove City, Ohio 43123 in Judy's memory.
Click here to view the full obitiurary.

The following is a note singing News received from Judy's daughter Misty:
Thank you SO much for all of your prayers, love and support throughout this difficult journey. At shortly after 2:00 this morning (Feb. 4), after fighting long and hard, Mommy received the healing we have all been praying for. With family at her bedside and "We Will Meet Again" (sung by Soul Purpose Quartet) being played in the background, we all sang Mommy through to Glory. Dad was so concerned about taking the situation back from God, but I told him that years ago God walked her down the aisle to him and now he has the opportunity to walk her down the aisle to Him...To fully give her over to His care. Man may plot his own steps, but they truly are determined by the Lord. Please continue to keep us all in your prayers. We love you Mommy and will miss you TERRIBLY, but OH what that Heavenly choir must sound like now with your beautiful voice singing harmony! See you later and keep the chairs open at the table for us.