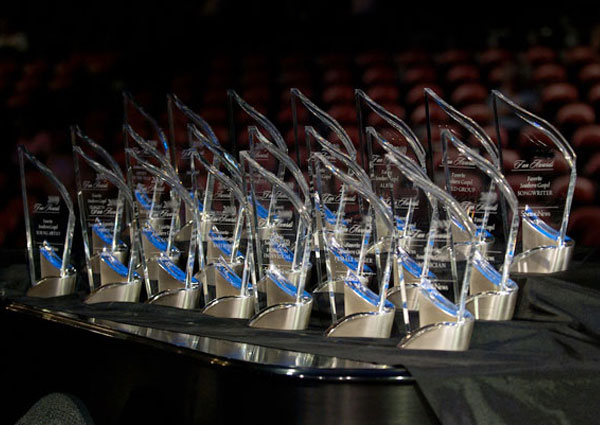 Top Five Nominees For The 2014 Singing News Fan Awards
By
Staff
Tuesday, May 13, 2014
The second round of voting for the 2014 Singing News Fan Awards, the Southern Gospel Industry's PREMIERE fan-voted awards, is now over, and the readers of Singing News Magazine have cast their votes for who they think is the TOP FIVE nominees in each available category.
Singing News Magazine subscribers will soon be able to vote for their favorites among these results when the third and final round of voting begins, which will decide the winners. If you would like to vote in the second round, but are not yet a subscriber to Singing News Magazine, click here to see multiple ways you can subscribe and be eligible to vote before it's too late!
Winners will be announced at the 2014 National Quartet Convention.
Favorite Artist
Booth Brothers
Collingsworth Family
Greater Vision
Kingdom Heirs
Triumphant Qt
Traditional Quartet
Brian Free & Assurance
Kingdom Heirs
Legacy Five
Mark Trammell Qt
Triumphant Qt

Mixed Group
Collingsworth Family
Hoppers
Isaacs
McKameys
Perrys
Trio
Booth Brothers
Greater Vision
Jeff & Sheri Easter
Karen Peck & New River
Whisnants
Soloist
Bishop, Mark
Crabb, Jason
Greene, TaRanda
Parker, Ivan
Penrod, Guy
Favorite Male Singer
Bennett, Eric - Triumphant Qt
Booth, Ronnie - Booth Brothers
Phelps, David - Gaither Vocal Band
Rice, Arthur - Kingdom Heirs
Wolfe, Gerald - Greater Vision
Favorite Female Singer
Gooch, Karen Peck - Karen Peck & New River
Greene, TaRanda - Soloist
Hopper, Kim - Hoppers
Stuffle, Libbi - Perrys
Whisnant, Susan - Whisnants
Young Artist
Clark, Riley Harrison - Tribute Qt
Fortner, Eli - McKameys
Ivey, Trey - Legacy Five
Thompson, Amber - Nelons
Wilburn, Jordan - Wilburn & Wilburn
Tenor
Allman, Chris - Greater Vision
Booth, Michael - Booth Brothers
Free, Brian - Brian Free & Assurance
Phelps, David - Gaither Vocal Band
Sutton, David - Triumphant Qt
Lead
Booth, Ronnie - Booth Brothers
Fowler, Scott - Legacy Five
Inman, Clayton - Triumphant Qt
Rice, Arthur - Kingdom Heirs
Wolfe, Gerald - Greater Vision
Baritone
Brady, Jim - Booth Brothers
Griffin, Rodney - Greater Vision
Inman, Scott - Triumphant Qt
Singletary, Josh - Tribute Qt
Trammell, Mark - Mark Trammell Qt
Bass
Barker, Pat - Mark Trammell Qt
Bennett, Eric - Triumphant Qt
Chapman, Jeff - Kingdom Heirs
Riley, Tim - Gold City
Stuffle, Tracy - Perrys
Soprano
Alvey, Lauren Talley - Talleys
Collingsworth, Brooklyn - Collingsworth Family
Gooch, Karen Peck - Karen Peck & New River
Hopper, Kim - Hoppers
Yeary, Sonya Isaacs - Isaacs
Alto
Collingsworth, Courtney - Collingsworth Family
Easter, Sheri - Jeff & Sheri Easter
Hopper, Connie - Hoppers
Stuffle, Libbi - Perrys
Whisnant, Susan - Whisnants
Musician
Collingsworth, Kim - Collingsworth Family
Mote, Gordon - Soloist
Stice, Jeff - Triumphant Qt
Williams, Kevin - Gaither Vocal Band
Wolfe, Gerald - Greater Vision
Band
Dove Brothers Band
Gaither Vocal Band
Isaacs Band
Kingdom Heirs Band
Primitive Qt Band
Songwriter
Bishop, Mark
Brady, Jim
Griffin, Rodney
Inman, Scott
Parsons, Squire
Album
For All He's Done - Greater Vision
Redeeming The Time - Kingdom Heirs
Revival - Karen Peck & New River
The Greatest Story - Triumphant Qt
Your Walk Talks - Mark Trammell Qt

Small Market DJ
Beck, Elaine - WZCT - Scottsboro, AL
Garner, Scott - WGMI - Bremen, GA
Hutson, Jim - WYGS - Columbus, IN
Hutton, Dave - KTTK - Lebanon, MO
Whisnant, John - WCIS - Morganton, NC
Medium Market DJ
Elrod, Don - WGTJ - Gainesville, GA
Richardson, Gary - WJCR - Upton, KY
Roberts, Bill - WLWI - Montgomery, AL
Squires, Lottie - WCKB - Dunn, NC
Taylor, Dave - KWFC - Springfield, MO
Large Market DJ
Britt, Daniel - WXRI - Winston Salem, NC
Foster, Ron - WZZK - Birmingham, AL
Guinn, Tim - WJBZ - Knoxville, TN
Hicks, Ken - WUSY - Chattanooga, TN
Taylor, Wanda - WXRI - Winston Salem, NC
Non-Performing Songwriter
Free, Ricky
Lister, Mosie
Peck, Rebecca
Rowland, Kyla
Wilkinson, Dianne
New Traditional Quartet
Canton Junction
Carolina Boys
Freedom Qt
Paul's Journey
Penny Loafers
New Mixed Group
Allen Family
Erwins
Hoskins Family
Mylon Hayes Family
Southern Raised
New Trio
Barry Rowland & Deliverance
Declaration
Hyssongs
Mountain Faith
Watts, Rowsey & Bean
New Soloist
Eleton, Channing
Habedank, Joseph
Hodges, Billy
Paskvan, Abby
Robinette, Tammy Jones
Song
A Hill Worth Dying On - McKameys
Because He Loved Me - Triumphant Qt
Calvary's Cry - Brian Free & Assurance
He Can Move That Stone - Whisnants
I See Grace - Booth Brothers
Just Beyond The Sunset - Kingdom Heirs
Living In The Palace - Legacy Five
Long Live the King - The Old Paths
Preacher Tell Me Like It Is - Greater Vision
Revival - Karen Peck & New River